Viewing:
» Escuela Razonada De La Guitarra, Vol.4_Pujol, Emilio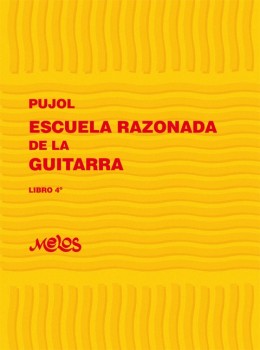 Escuela Razonada de la Guitarra, Vol.4
Product Information
Full Description
Emilio PUJOL
Escuela Razonada de la Guitarra Vol.4
A Theoretical/Practical Method for the Guitar
Based on the Principles of Francisco Tarrega
Concluding part of Pujol's Rational School of Guitar.
Contents:
- Lessons no.117-166
- Etudes no. 40-70
inc.
- Etude no.51: El cant dels ocells,
- Etude no. 52: Copla de Seguidilla
- Etudes no.54-68: 15 variations on Aguado Lesson no.19 by Aguado
- Etude no.69: El arroyuelo
- Etude no.70: Fuge
- Mozart: Pastorale
- Chopin: Etude op.25 no.1 (Two Guitars)
Original bi-lingual edition in French/Spanish.
NB There may be a long lead time for this item (6 months+) due to the publisher's erratic supply. Please order only on this understanding-you may be pleasantly surprised.
There is also German language version (same music) more readily available.