Viewing:
» On An Overgrown Path(bresnickwagner)_Janacek, Leos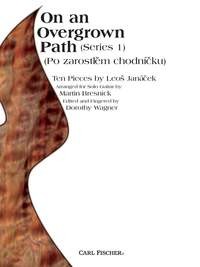 On an Overgrown Path(Bresnick/Wagner)
Product Information
Author:

JANACEK, Leos

Editor:

BRESNICK, Martin

Type:

Book Only

Language:

English

Instrumentation:

Solo Guitar

Skill Level:

Intermediate / Advanced

Pages:

36

Availability:

Sold: On Order

Stock Reference:

GT209


Full Description
Leos JANACEK
On an Overgrown Path (Series 1)
- Our Evenings
- A Faded Leaf
- Come with Us!
- The Virgin Mary of Frydek
- They Chattered Like Swallows
- Words Fail Me!
- Good Night!
- So Unutterably Anxious
- In Tears
- The Little Owl Hasn't Flown away!
Written when JanŠcek was in his fifties, before he was noted as a celebrated composer, the ten pieces in this collection constitute a look into world of Czech culture, melody, rhythm and spirit that the composer embodied in his work. Bresnick skillfully arranges these works for solo guitar, which are a unique challenge for the strong guitarist. A unique and beautiful set on a guitar recital!
Edited and fingered Dorothy Wagner.