Viewing:
» Suite De Caloriffere_Yeprem, Sefa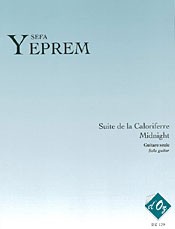 Suite de Caloriffere
Product Information
Author:

YEPREM, Sefa

Type:

Book Only

Language:

English/French

Instrumentation:

Solo Guitar

Skill Level:

Intermediate / Advanced

Pages:

12

Availability:

Available

Stock Reference:

DZ139


Full Description
for solo guitar
This is a set of three tiny miniatures, the shortest of which comprises just ten bars.
The language is that of mainstream contemporary jazz, and each piece is quite charming within its modest parameters. Finest of all is the closing Back Streets of Beyoglu, in which the poignant minor sevenths and chromatic bass-lines create a wonderfully rich thumbnail image which has been and gone in a matter of seconds.
Concise but imaginative, and they're so brief you could even perform all three as a single encore.
PF Classical Guitar