Viewing:
» Collected Works For Guitar Vol.2_TOMIYAMA, SHIYOH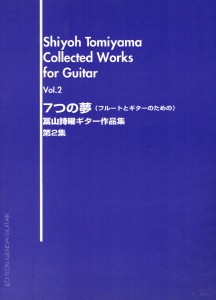 Collected Works for Guitar Vol.2
Product Information
Full Description

Shiyoh TOMIYAMA
Collected Works for Guitar
Vol.2: Works for Flute & Guitar
Seven Dreams op.14
- Riding the Wind
- Passion
- Bubble Rag
- Memories of You
- Downtown Gentleman
- Beyond the Past
- Man without Worries
About these pieces Tomiyama writes:
A gentle melody suddenly occupied my thoughts while composing an unrelated work. I had to compose a separate piece to clear my thoughts. This piece turned into Riding the WInd. I went on to compose five similar pieces after this. The number 7 is s symbol of good luck in many countries, so I added a further piece Bubble Rag. These pieces were entitled 'Seven Dreams' with the motto 'easy to listen to, easy to play!'
The essence of jazz, new music and classical permeate these pieces.
Book (Printed Music)

Only £18.99

Book (Printed Music)

Only £11.99

Book (Printed Music)

Only £10.99