Guitar Tuition
Ever since the Spanish Guitar Centre Nottingham was founded in 1969, providing the highest quality tuition for the classical guitar has been central to our activity.
Many dozens of professional guitarists from both the teaching and performing worlds have spent their formative training years with us and we can include amongst that number a former Decca recording solo artist and a highly successful commercial composer. For many years the Centre's annual Pupil Concert was a major event of the Nottingham Festival and featured on BBC Local Radio.
Today, private tuition is offered in our teaching studio on an individual basis with our principal, Catherine Dickinson. Catherine is a Post Graduate of the Royal Northern College of Music and a Fellow of the London College of Music(Performing) and has many years experience as both a performing musician and teacher.
Catherine welcomes adults of all standards from beginners, improver hobbyists to Post Graduate level students offering coaching for examinations, college auditions and presentations, but most

essentially for pleasure

.
Monthly lessons are individual and of approximately 90 minutes duration and take place at 7.00pm on Tuesday evenings.
The classical style taught here is in the manner of contemporary practitioners such as Milos Karadaglic, Craig Ogden, Sean Shibe etc.
Please consult for vacancies and prices.
Meanwhile here are a couple of memories of past Pupil concerts: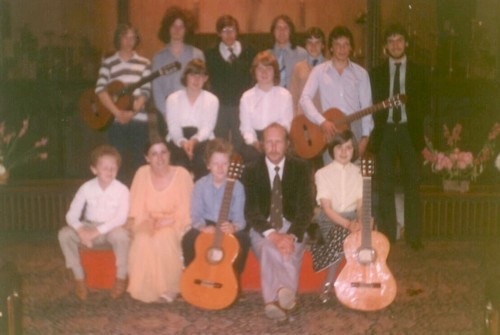 Future Decca recording artist 11 year old Nicola Hall is seated front row right, next to the Robin Pearson (late Principal)