Spanish Guitar
Viewing:
» Larbre Tombe_Cortes, Juan Manuel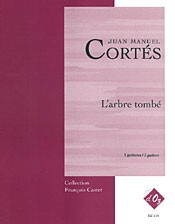 L'arbre tombe
Product Information
Author:

CORTES, Juan Manuel

Type:

Book Only

Language:

English/French

Instrumentation:

Two Guitars

Skill Level:

Intermediate / Advanced

Pages:

8pp+pts

Availability:

Available

Stock Reference:

DZ133


Full Description
for two guitars
Composed in 1991, this is an attractive and unusual work in four closely-linked movements. The chordal figure introduced in the opening Andante cantabile is quoted more or less verbatim in every movement except the third, and the final movement proves to be little more than edited highlights of everything that has gone before.
Stylistically, the language remains tonally-based, and the general mood is one of quiet introspection. Only in the toccata-like third movement, in which both parts are centred around quickfire triplet arpeggios, does the momentum start to build. CortÚs invariably makes intelligent use of the guitar's resources, and the ensemble difficulties are limited to a brief but surprisingly accident-prone three against two rhythm five bars from home.
A publication of considerable potential which remains comfortably within the range of Grade 7/8 players.

(PF Classical Guitar)