Viewing:
» Metrica Iii_Barce, Ramon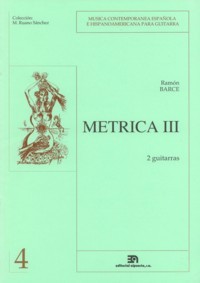 Metrica III
Product Information
Full Description
Composed in 1973 and premiered in Mexico by the Castañón-Bañuelos duo in 1979.
As with "Métrica I" for cello and piano (1969) and "Metrica II" for cello, trumpet and piano (1970), the work consists of a sequence based on a nucleus of ten different pulsations (notes and silences) each time, which elaborates a "metric" discourse in the sense that the model maintains a regular outline with slight modifications over which brief melodic designs and chords briefly glide.
Composer's facsimile manuscript score.
Book (Printed Music)

Only £10.95

Book (Printed Music)

Only £10.95

Book (Printed Music)

Only £10.95