Viewing:
» Capriccio Detto il Gran Monarco(long)_Melii, Pietro Paulo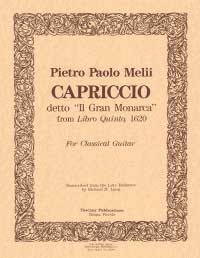 Capriccio detto 'Il Gran Monarco'(Long)
Product Information
Author:

MELII, Pietro Paulo

Editor:

LONG, Richard

Type:

Book Only

Language:

English

Instrumentation:

Solo Guitar

Skill Level:

Intermediate / Advanced

Pages:

8

Availability:

Available

Stock Reference:

PR01265


Full Description
Capriccio detto "Il Gran Monarco"
from Libro Quinto, 1620
The composer, lutenist to the Imperial court, published this work in Venice in 1620;
"thanks to the editor ... for bringing this fascinating composer to our attention. ... what a smashing piece."
-- Gregory Newton,
Classical Guitar; "an unusual and effective solo"