Viewing:
» Simply Latin_Lindsey clark, Vincent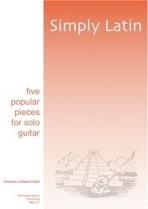 Simply Latin
Product Information
Author:

LINDSEY-CLARK, Vincent

Type:

Book Only

Language:

English

Instrumentation:

Solo Guitar

Skill Level:

Intermediate

Exam board Listed

Pages:

12

Availability:

Sold: Out of Stock

Stock Reference:

MM121


Full Description
Lindsey Clark - Montanas nebulosas
recreating the Chilean, Andean sounds of panpipes and drums complete with an atmospheric tambora percussive effect
.
Lindsey Clark

- Tango esta noche
draws on the Argentian fondness for the Tango with touches of its greatest exponent, Astor Piazzolla.

Lindsey Clark

- Rio by night
is a Brazilian bossa nova with the harmonies and rhythms that would not be out of place in a Carlos Jobim song from the Ipanema cafes of the 1950s

Lindsey Clark

- Vals: Homage to Antonio Lauro
.
The Venezuelan waltz had a more sinuous and exotic character than its Austrian cousin no more so than in the hands of the great Venezuelan guitarist Antonio Lauro who will be well known to guitarists for his many concert pieces.

Lindsey Clark

- Danza del Arpa
celebrates the distinctive sound of the Paraguayan harp with its penchant for 3/4 6/8 cross rhythms.
- o -
Trinity College London(2016-19) syllabus listed publication
- TCL Grade 4

Vincent Lindsey Clark MM121