Viewing:
» Fantasia Sonata No.4_Torrent, Jaume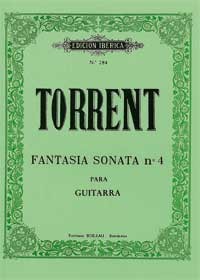 Fantasia Sonata no.4
Product Information
Full Description
Fantasia Sonata no.4, op.27
I. Moderato con tenerezza
II. Intermezzo (Presto)
III. Largo poético
IV. Allegro non troppo
The composer comments:
It is a well known fact that little has been written on the subject of the most significant trends in the movement of musical romanticism for the guitar. One only has to consider the works of Schubert or Schumann to see the close relationship that there is with the language of the guitar; that it is embedded in their music and that they had great difficulty expressing themselves through our instrument, the guitar. My interest in investigating in depth the possibilities that the romantic style holds for the guitar, stems from my desire to develop artistic principle in this style based on methods of me instrument itself.
The Twenty-four Romantic Fantasies, written in all major and minor keys and which I have already had published, allowed me to discover technically new expressive aspects in our instrumental literature through a more agile modular process and the use of almost unexplored tones. Now, with these first Fantasias Sonatas I have developed new ideas based on the same style but with a greater overall structure. The use of Fantasia as a qualifying adjective is to show the contrast, and establish a difference between, the classical Sonata and what I have chosen to call the Fantasia Sonata. It also servers to make the distinction between my works called simply Sonatas and which are written with very different characteristics.