Viewing:
» Petite Suite Francaise, Op.60_Duarte, John W.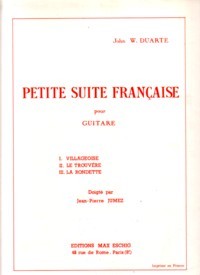 Petite Suite Francaise, op.60
Product Information
Author:

DUARTE, John W.

Editor:

JUMEZ, Jean-Pierre

Type:

Book Only

Language:

French

Instrumentation:

Solo Guitar

Skill Level:

Intermediate / Advanced

Pages:

12

Availability:

Available

Stock Reference:

ME8214


Full Description
Petite Suite Francaise, op.60
(1974) [12:30]
i. Villageoise
ii. Le Trouvere
iii. La Rondette
Written in 1974, at the request of the French guitarist, Jean-Pierre Jumez, to whom the music is also dedicated. Jumez wanted a new, French-inspired, piece for his London debut and a French suite was the result. The first movement is an evocation of a country girl, possibly influenced by Francis Poulenc's piece of the same title, Duarte having previously made some arrangements, for two guitars, of works by Poulenc. The second movement is based on Guillaume de Machaut's virelai, Douce dame jolie and the third movement, in the style of a musette, is based on La Follette, from the 'Pièces de clavecin' by Jean-Philippe Rameau.