Viewing:
» Mambo Des Nuances; Lille Song_Dyens, Rol&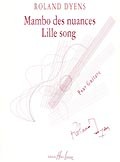 Mambo des nuances; Lille song
Product Information
Author:

DYENS, Roland

Type:

Book Only

Language:

English/French

Instrumentation:

Solo Guitar

Skill Level:

Intermediate / Advanced

Pages:

8

Availability:

Available

Stock Reference:

HL26193


Full Description
Mambo des Nuances - Lille Song
The composer writes:
Lille Song
. Li'l song, as I pronounce it. This is the little sister to
Mambo des nuances
and is just as simple. Try it out gently at first and it will soon fall into place.
Mambo des nuances
. Although I tried to make this piece really simple, some people tell me it isn't (but I don't listen to them). With three or four years of lessons behind you, and a good teacher, this Caribbean dance of a thousand dynamics will soon have no secrets for you.