Viewing:
» Bellefleur, Valse Francaise_Staak, Pieter V.d.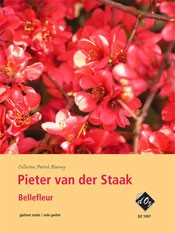 Bellefleur, valse francaise
Product Information
Author:

STAAK, Pieter v.d.

Type:

Book Only

Language:

English

Instrumentation:

Solo Guitar

Skill Level:

Intermediate / Advanced

Pages:

8

Availability:

Available

Stock Reference:

DZ1007


Full Description
Bellefleur, valse francaise
Bellefleur was written in 1979 and is in the style of a lively waltz. One could be forgiven for translating the title as "Beautiful Flower" but it actually comes from the name of a Dutch apple; the sound of the accompaniment in the piece "pom-pom" reminded the composer that "pomme" is French for "apple", thereby came forth the title.
(S.M. Classical Guitar Magazine)
More intermediate than advanced.