Viewing:
» Ma Guitare Part En Voyage_Castet, Francois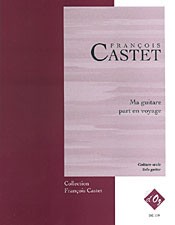 Ma guitare part en voyage
Product Information
Full Description
Ma guitare part en voyage(My guitar goes travelling)
53 easy pieces.
Offering music for the first years of guitar, this book is designed to allow carefully scheduled breaks from the traditional guitar method.
Much of the material is drawn from the popular tunes of Mexico, Spain and South America.
Review:
With simple techniques, open textures and attractive melodies, this volume offers a fine assortment of didactic and recreational pieces for guitarists in early stage.
(David Grimes, Soundboard)