Viewing:
» First Book For The Guitar, Part 3_Noad, Frederick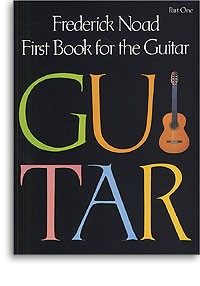 First Book for the Guitar, Part 3
Product Information
Author:

NOAD, Frederick

Type:

Book Only

Language:

English

Instrumentation:

Solo Guitar

Skill Level:

Intermediate

Pages:

64

Availability:

Available

Stock Reference:

GS33516


Full Description
First Book for the Guitar Part 3
A beginner's manual to the classical guitar. Uses a systematic approach using the interesting solo and duet music written by Noad, one of the world's foremost guitar educators. No musical knowledge is necessary. Students can progress by simple stages. Many of the exercises are designed for a teacher to play with the students. Will increase student's enthusiasm, therefore increasing the desire to take lessons.
Part three explores new keys, new counting techniques and the beginnings of barring with your left hand.
Allegretto, Op. 44, No. 8 (Sor) · Alman · Amusement, Op. 18, No. 3 (Horetzky) · Andante (Sor) · Andante, Op.6 (Molino) · Andantino (Carulli) · Andantino, Op. 139, No. 1 (Giuliani) · Bourrée in A Minor (L. Mozart) · The Entertainer · Theme from Jocelyn (Godard) · Little Rondo (Meissonier) · On Top of Old Smoky · Pastoral (Noad) · Petenera · Rondo, from Sonatina, Op.71 (Giuliani) · Sicilienne (Meissonier) · The St. Catherine (Barrett) · Study in D Minor (Coste) · Study in F (Sor) · Study in 3rds (Sor) · Study in 6ths (Sor).