Viewing:
» Mississippi Rag(eriksson)_Krell, William H.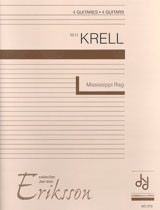 Mississippi Rag(Eriksson)
Product Information
Author:

KRELL, William H.

Editor:

ERIKSSON, Jan-Olof

Type:

Book Only

Language:

English/French

Instrumentation:

Four Guitars

Skill Level:

Intermediate / Advanced

Pages:

12pp+pts

Availability:

Available

Stock Reference:

DO370


Full Description
arr. Jan-Olof Eriksson
for four guitars
William H. Krell was a white Chicago bandleader whose place in ragtime history is assured by being credited with being the first to publish a composition with the word "rag" in its title, namely Mississippi Rag (1897). The cover also records the first publication of the word "rag-time". The pundits point out however that it was not actually a true rag, but a cakewalk. Whatever its merits, Mississippi Rag continues to this day to be widely performed and recorded by all manner of artists ranging from solo pianists to brass quintets.
This arrangement should suit most intermediate level quartets.