Viewing:
» Une Petite Musique..._Gougeon, Denis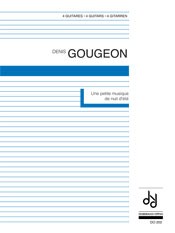 Une petite musique...
Product Information
Author:

GOUGEON, Denis

Type:

Book Only

Language:

English/French

Instrumentation:

Four Guitars

Skill Level:

Intermediate / Advanced

Pages:

12pp+pts

Availability:

Available

Stock Reference:

DO202


Full Description
Une petite musique de nuit d'ete
for four guitars
Denis Gougeon is a widely played Canadian composer of concert music. This charming work 'A little summernights music' was written for a student quartet or a guitar ensemble. It is an excellent introduction to some moderately difficult contemporary notation.