Viewing:
» Guitars
» Cadete 7p_ALHAMBRA GUITARRAS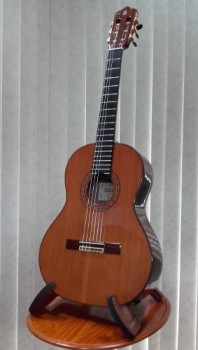 Cadete 7P
Product Information
Type:

Guitar

Guitar Top:

Red Cedar

Back & Sides:

Indian Rosewood (solid)

Fingerboard:

Ebony

Scale Length:

580mm

Width at nut:

48mm

Origin:

Spain

Condition:

New

Availability:

Sold: Out of Stock

Stock Reference:

A7P_Cad


Full Description
Cadete 7P
(Short-scale, smaller bodied - inc.case)
(Ex-demo NM)
This guitar is very possibly a unique model. It was manufactured as a small-bodied, short scale prototype using solid tonewoods throughout rather than the usual laminated woods. This gives the instrument a much greater resonance, tone colour and power. 
As a smaller bodied and shorter scale instrument with a narrower fingerboard, it will ideally suit either a young person or petite adult.
The guitar is fitted with luxury Alhambra machines with ebony buttons and includes a de-luxe fitted Spanish-made hard case. Body length: 450mm Upper bout width: 252mm Lower bout width 356mm:
There is a minor cosmetic blemish noticeable on the back of the guitar. The lacquered finish shows signs of misting which has stabilized leaving a slightly opaque haze to the appearance of the finish.
The front of the guitar is unblemished and perfect in appearance. The performance of the instrument is unaffected.