Viewing:
» Sonata No.2_Mustonen, Oli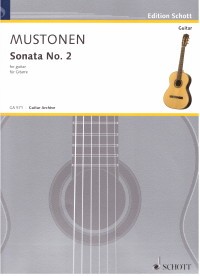 Sonata no.2
Product Information
Full Description
Olli MUSTONEN
Sonata no.2
(2017) [10:00]
- Drammatico, con rubato
- Misterioso, con rubato
- Con fuoco
Olli Mustonen writes:
Unlike its predecessor Jehkin Iivana, which draws its inspiration from the world of Finnish myths and the ancient tradition of poet singers, the sources of the Sonata N° 2 are more abstract.

The first movement starts with dissonant intervals, full of drama and conflict while the second has a dream-like atmosphere as if the guitar has been left alone in the forest. After a nightmarish episode, more hopeful music suddenly starts to appear. In the last movement the guitar returns to fight its tormentors from the first movement with renewed energy and takes its way heroically through all obstacles to a triumphant end.
Commissioned by The Julian Bream Trust and premiered 21.11.17 by Laura Snowden.
Duration: 10:00