Viewing:
» Guitar Star (abrsm)_Ryan, Gary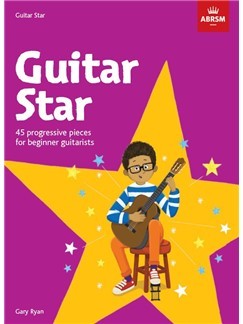 Guitar Star (ABRSM)
Product Information
Full Description
ASSOCIATED BOARD (ABRSM)
Guitar Star [BCD]
Guitar Star offers beginner guitarists a refreshing and inspirational choice of pieces to help build confidence and musical skills. The repertoire is imaginatively tailored to develop specific techniques through an exciting range of musical styles.
With over 40 pieces, including a number of duets as well as colourful illustrations, activities and a playalong CD, Guitar Star provides a rich variety of new repertoire at this level and will fire the imagination of young learners.
Gary Ryan is one of the world's leading exponents of the guitar and has performed to international critical acclaim for over twenty years, winning praise for his formidable technique, outstanding musicianship and entertainingly diverse programmes.
Book (Printed Music)

Only £5.95