Viewing:
» The Bible Of Classical Guitar Technique_Kappel, Hubert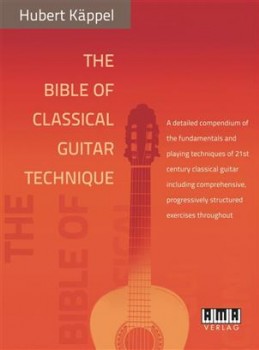 The Bible of Classical Guitar Technique
Product Information
Author:

KAPPEL, Hubert

Type:

Book Only

Language:

English

Instrumentation:

Solo Guitar

Skill Level:

Intermediate / Advanced

Pages:

248

Availability:

Available

Stock Reference:

AMA610425E


Full Description
Hubert KAPPEL
The Bible of Classical Guitar Technique
English language version
This is more than 'just' a book about technique. Hubert Käppel, an internationally recognised and successful classical concert guitarist, is one of the most exceptional artists in his field.
He left himself more than two decades to publish his "The Bible of Classical Guitar Technique", so that he could pour all of his teaching experience, which spans more than four decades, into his work. This is how a 246-page strong course book came into being, which will deliver material for guitarists for many years to come.
Of the book's three large sections, the second, practical part makes up the bulk, containing many technique exercises (arpeggios, scale exercises, hammer-ons and pull-offs with the left hand, tremolo, flamenco techniques, speed training, vibrato techniques and dynamic exercises). This technical part is framed by theoretical topics: in the "Prerequisites and Basics", Hubert Käppel gives detailed tips for effective and systematic practice and how to move when playing. In the third part, the 'important topics' of fingering techniques and memory training for playing by heart are tackled and comprehensive plans for daily practice cycles are presented. Through the meticulous system used when putting this book together, it has been possible to do without an index because of how detailed the contents page is.
Even the topic of stage fright hasn't been forgotten by Hubert Käppel, which makes this integral work perfectly suited to accompanying advanced guitarists through music schools or university and preparing them for concerts.