Viewing:
» Guitar Dance Collection_Ragossnig, Konrad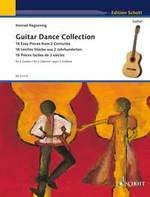 Guitar Dance Collection
Product Information
Author:

RAGOSSNIG, Konrad

Editor:

RAGOSSNIG, Konrad

Type:

Book Only

Language:

English/French/German

Instrumentation:

Two Guitars

Skill Level:

Intermediate / Advanced

Pages:

72

Availability:

Available

Stock Reference:

ED21215


Full Description
18 'Easy' Pieces from 2 Centuries
Z. de Abreu
- Tico-tico no Fuba (choro)
A. Aieta:
- Palomita Blanca(vals criollo)
I. Albéniz
- Tango No. 2 from Suite 'Espana' op. 165
N. Blois
- Idilio Trunco(valse)
F.A. Bodstein
- Mazurka, op. 14/8
A. Bonavena
- Disfrazate Hermano(tango)
A. Darr
- Polonaise from "Introduktion und Polonaise"
- Rondo from Duo No. 6
A. Diabelli
- Spanish National Dance: La Gitana
A. Götz
- Gisela(polka)
F. Hünten
- Contredanse No. 1: Pantalon from "Premier Quadrille de Contredanses variées", op. 63
S. Joplin
- The Entertainer(ragtime)
E. Nazareth
- Comigo e na Madeira(samba brasileiro)
P.M. de Perlado
- Lo que nos priva Mama(habanera)
P. Pettoletti
- Valse from 'Mes Souvenirs' Divertissements, op. 6
J.C. Sanders
- Adios Muchachos(tango)
M. Seiber
- Tango (Habanera)
P.I. Tschaikowsky
- Polka, op. 39/10
The 'Guitar Dance Collection' contains dances from the 19th and 20th centuries which are still popular today, such as tango, waltz, polka, mazurka, ragtime, habanera and samba. The collection contains both original works and arrangements of piano and ensemble pieces which have lost nothing of their charm in the version for two guitars. They give guitarists the opportunity to play well-known pieces such as The Entertainer, Tico-tico or Adiós Muchachos in a duet. A lively addition to the ensemble repertoire for all guitarists.
Described as 'easy' in fact this collection is best suited to intermediate level players with a few year's playing experience.