Viewing:
» Circulo Magico_Assad, Sergio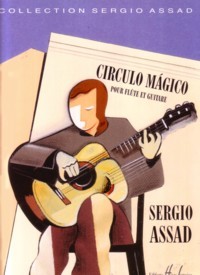 Circulo Magico
Product Information
Full Description
for flute & guitar
(1997) [7:50]
Círculo Mágico is the Portuguese translation for Magic Circle , a Pagan ritual with origins in ancient history. In pre-Christian Europe most Pagan religious festivals took place in circles, normally outdoors under the sky and stars at night. There
they celebrated the Earth's fertility and worshiped the Sun, Moon, and Deities.
The Magic Circle is a magical environment in which the deities are celebrated. It defines the ritual working area, a sphere, and creates the proper energy for the ritual. Within this energy-sphere each one of the four elements are assigned to a different cardinal point.
The piece Círculo Mágico written for flute and guitar is a musical representation of the four elements within the circle. It starts with the element of air (east) evoked by the blowing of repeated patterns on the flute. It changes gradually to
earth (north) with a defined melody for the flute and an ambiguous harmony for the guitar. Later comes the element of fire (south) represented by a fast and fiery dance. This is followed by the element of water (west) where the guitar takes the leading role and the flute plays cascades of semiquavers. The piece ends with a return to the element of air closing the ritual.