Viewing:
» Cuenca: Model 90*_CUENCA GUITARS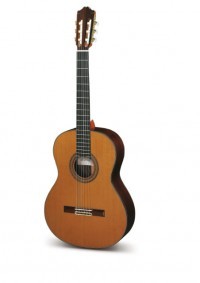 Cuenca: Model 90*
Product Information
Type:

Guitar

Guitar Top:

Canadian Red Cedar

Back & Sides:

East Indian Rosewood(solid)

Fingerboard:

Ebony

Scale Length:

650mm

Width at nut:

52mm

Origin:

Spain

Condition:

New

Availability:

Special Order Item

Stock Reference:

CG90


Full Description
Guitarras CUENCA
Concierto Series: Model 90
inc. quality fitted hard-shell case
SHIPPING: UK delivery only (see below for options)
What the manufacturer says:
As with all the higher end models, these guitars are built by a small experienced team of luthiers at the Cuenca facility.


The 90 features a bridge-shaped cross bracing pattern to give the top maximum volume and projection.
But richness is not the only thing:
- The action is also just perfect: high enough to make the guitar sing but extremely comfortable.
- The sound projection is amazing.
- Basses, mids and trebles so well balanced. You have full control of the voices and can emphasize whatever voice you want without any struggle.
Therefore you become the conductor and have a complete orchestra under your fingers.
It is hard to imagine all the possibilities this instrument offers and the limits are just imagination.
---
Catherine's verdict:
The Cuenca Model 90 is a beautifully hand crafted short scale instrument with many individual features. It can produce great dynamics, especially in the upper midrange with effortless attack with seemingly endless sustain. The bass is well balanced with good presence. Trebles sing brightly and cleanly right up into the difficult areas above the 12th fret.
This is one of the top-line Cuenca models. I
A seriously good performer which will give many years of pleasure and service.
---
All Cuenca models carry a three year warranty.

Left-handed mod. available, please specify when ordering.

Includes a quality polyurethane fibre hard shell case

*
Available to pre-order 2021 delivery P.O.A.
Listen to a sample of this guitar

DELIVERY OPTIONS:
CLICK & LOCAL COLLECT

SGC DELIVERY (within 20 miles of Nottingham)

COURIER

(own insurance)


Please call to discuss options before purchase.