Viewing:
» Cuenca: Model 110*_CUENCA GUITARS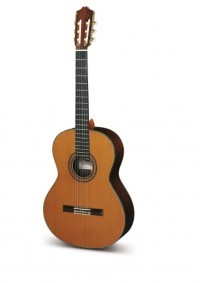 Cuenca: Model 110*
Product Information
Type:

Guitar

Guitar Top:

Canadian Red Cedar

Back & Sides:

East Indian Rosewood(solid)

Fingerboard:

Ebony (20 frets)

Scale Length:

650mm

Width at nut:

52mm

Origin:

Spain

Condition:

New

Availability:

Special Order Item

Stock Reference:

CG110


Full Description
Professional Series: Model 110*
(inc. quality hard shell case)
DELIVERY

-

UK SHIPPING ONLY
What the manufacturer says:
As with all high end Cuenca models the 110 is built by a separate experienced team at Cuenca's facility.
In particular 110ís fingerboard is longer: it goes over the sound hole in order to introduce an additional fret that is required for some compositions to extend the note range to a high C. There is also and additional green line in the binding and inlays to provide the model's aesthetic quality. However, the most important is that the heel of the 110 is made of 5 different pieces while the other models have a single piece heel. The structure on the 110 is much stronger and this too has a positive influence in terms of sound. Well-balanced bass, mid-range and treble and an incredible sound projection, a modern guitar aimed at today's guitarist.
---
Catherine's verdict:
A near concert quality instrument of distinction, with beautifully matched East Indian Rosewood back and sides. The sound of the Cuenca 110 is not only full and warm, but has an easy transparency in every frequency range with sparkling highs and a massive projection with good sustain.
Supporting the soundboard are five bracing struts interconnected with a lateral floating 'U' bridge running parallel to the guitar's bridge, this innovation to the inner bracing construction translates into fuller sound with longer projection & more power overall.
The inner kerfling to the top and back are made of better solid woods which add-on the stiffness overall body structure. There are more vertical side bracing reinforcement than in the 100. The scalloped bracings top & back are shaped more aerodynamically ensuring smoother acoustic wave propagation toward the sound-hole. Cuenca have carefully crafted the semi-D shape neck on this model, ensuring swift, comfortable movement. The smooth gloss neck finish adds to this feeling of comfort. Dimensions: neck thickness is 22mm and nut width = 52.4 mm, the strings spacing = 42.4mm.
This instrument would suit an advanced player requiring a guitar with the projection and flexibility of a bespoke instrument, but without having to make the necessary financial layout. There is also the addition of a 20th fret 'high C' .
---
All Cuenca models carry a three year warranty.

Left-handed mod. available, please specify when ordering.

Includes a quality polyurethane fibre hard shell case

*
Available to pre-order for 2021 delivery P.O.A.
Listen to a sample of this guitar: