Viewing:
» Gradus Ad: Vol.3_Biberian, Gilbert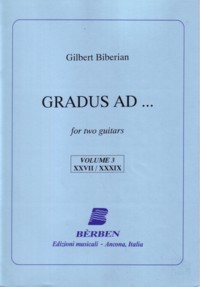 Gradus Ad: Vol.3
Product Information
Full Description
Vol.3(27-39)
Mostly intermediate difficulty.
27. March no.1
28. March no.2
29. Midsummer's Day
30. Romance
31. Oracion
32. On Harmonics
33. Canon no.2
34. Fantasia
35. Capriccio
36. Recitativo
37. Menekse Buldum Derede/Violets by the Stream(1st Version)
38. Menekse Buldum Derede(2nd Version)
39. Reflections
Gradus ad Parnassum is the complete version of this classical title, Parnassus being the loftiest, ideal destination.
Gradus is a cornucopia, full of diverse fruit, with some didactic intentions also. The pieces follow a kind of upward gradient, progressive in difficulty with many stepping stones and plateaus along the way.