Viewing:
» Trio Op.38 [vnvagtr]_Lhoyer, Antoine De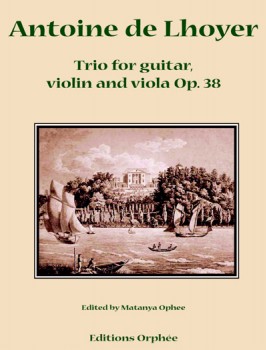 Trio Op.38 [Vn/Va/Gtr]
Product Information
Author:

LHOYER, Antoine de

Editor:

OPHEE, Matanya

Type:

Book Only

Language:

English

Instrumentation:

Vn/Va/Gtr

Skill Level:

Intermediate / Advanced

Pages:

12pp+pts

Availability:

Available

Stock Reference:

EICM45


Full Description
Antoine de LHOYER
Trio op.38 for guitar, violin & viola
This edition is based on an early nineteenth century edition, now kept at the Library of Congress, in Washington DC. The edition seems to have been published in Paris in 1822. This was the time when de Lhoyer was suspended from military service on half-pay and living with his new wife, Marie Antoinette Leclerc, in the town of Niort and a most productive period in his career as a composer.
The structure of this Trio: Marche, Valze, Andante con Variazione, Polonaise and Romance, avoiding the traditional Sonata Allegro movement, as well as the use of basic tonalities with a marked disinterest in extensive modulations, not to mention the relatively slow tempi, would suggest that the music was intended to be used by amateur musicians at home. There seems to be an obvious disconnect between the separate movements of this apparent suite of pretty melodies, suggesting that individual movements of the Trio could very well be performed independently of the entire work. The melodies themselves, even if imagined by the composer himself, could have been based on known popular themes, though a precise identification, particularly of the theme used in the Andante con Variazione movement have not been made.
Antoine de Lhoyer was born on 6 September 1768 in Clermont-Ferrand, in the heart of France. His family appears to have been a well-to-do famille bourgeoise. Little is known about his childhood, but one source states that he studied music in Paris with excellent masters. In the early autumn of 1789 he embarked upon a military career by entering the Gardes du Corps du Roi, where he served until the imprisonment of the Royal Family in 1791. De Lhoyer left the country at the end of 1791 and went to Coblenz where he enlisted with the armée des Princes, a principal counter-revolutionary unit. His enlistment with this army lasted until the end of 1792. In the ensuing years, time and again de Lhoyer joined military units fighting against revolutionary France: during 1794-97 he participated in the various campaigns of the Austrian army, and in 1799-1800 he was in the armée de Condé, another leading émigré military unit. He settled as a guitarist in Hamburg in 1800 where some of his guitar works, were published. He went to Russia sometime in early 1803; on his way he passed through Berlin where he appeared in a concert in December 1802. He clearly obtained a prominent position at the imperial court in St. Petersburg were he stayed until his return to France in 1812, just before Napoleon's Russian campaign. He served in various command positions in the French army until his forced retirement in 1830. He died on 15 March, 1852 in Paris at the age of 84.