Viewing:
» Aranci In Fiore, Op.87b_Castelnuovo tedesco, Mario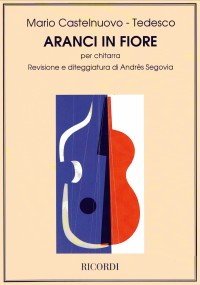 Aranci in Fiore, op.87b
Product Information
Author:

CASTELNUOVO-TEDESCO, Mario

Editor:

SEGOVIA, Andres

Type:

Book Only

Language:

Italian

Instrumentation:

Solo Guitar

Skill Level:

Intermediate / Advanced

Pages:

4

Availability:

Available

Stock Reference:

R124346


Full Description
Mario CASTELNUOVO TEDESCO
(1936) [5:30]
Edited by Andres Segovia
Composed in thanks to Aldo Bruzzuchelli for the gift of a basket of oranges out of season for Tedesco's son who was unwell and in need of vitamins.
The work describes the unseen Sicilian landscape.
Aranci in fiore

has had some success thanks above all to the interpretation of Segovia.
Recently, however, the piece appears very rarely in concert programs and this is a shame because, if combined with

Tarantella

, the piece forms a pleasant and sparkling diptych.