Viewing:
» Variations On Catalan Folksong, Op.25_Duarte, John W.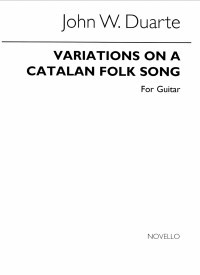 Variations on Catalan Folksong, op.25
Product Information
Full Description
Variations on a Catalan Folksong, op.25
"Canco del Lladre"
One of Duarte's earliest successes. A highly effective work, exploring many of the textures of which the guitar is capable remaining tuneful and challenging. Recorded by John Williams on his debut albums, this work has remained firmly in the repertoire ever since.