Viewing:
» The Solo Lute Works(koonce)_Bach, Johann Sebastian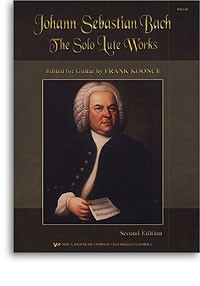 The Solo Lute Works(Koonce)
Product Information
Author:

BACH, Johann Sebastian

Editor:

KOONCE, Frank

Type:

Book Only

Language:

English

Instrumentation:

Solo Guitar

Skill Level:

Intermediate / Advanced

Exam board Listed

Pages:

160

Availability:

Available

Stock Reference:

KJ15022


Full Description
The Solo Lute Works(Koonce)
Bach - Lute Suite in a minor, BWV995
Bach - Lute Suite in e minor, BWV996
Bach - Lute Suite in a minor, BWV997
Bach - Prelude, Fugue & Allegro, BWV998
Bach - Prelude in d minor, BWV999
Bach - Fugue, BWV1000
Bach - Lute Suite in E, BWV1006a
Editor's note:
An edition of music, like anything else, is a product of its own time. During the 1980s, guitarists of my generation were starting to become aware of stylistic concerns in the interpretation of early music. There was a movement towards stylistic authenticity, an attempt to re-discover the original intentions of early composers and recreate the aesthetic elements that were appropriate to their music. This growing movement prompted me to research the lute music of J.S. Bach and to develop my own edition of it
.
Frank Koonce
This attractive spiral-bound book contains reference information, sources and historical data, aspects of Baroque performance practice, facsimilies of the original manuscript as well as the music of J.S. Bach arranged for classical guitar in modern notation.
2nd Edition
. Kjos Music Co.
ABRSM(2009-) syllabus listed publication
Trinity College London (2010-16) exam syllabus selected.
Trinity College London(2016-19) syllabus listed publication
Bach Solo Lute Works, ed.Koonce (Neil Kjos Music/Music Sales) WG100
Neil A Kjos Music Company