Viewing:
» 20 Studies(grondona) [bcd]_Sor, Fern&o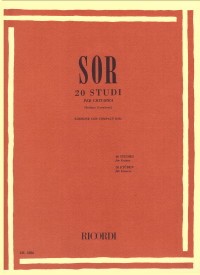 20 Studies(Grondona) [BCD]
Product Information
Author:

SOR, Fernando

Editor:

GRONDONA, Stefano

Type:

Book and CD

Language:

English/German/Italian

Instrumentation:

Solo Guitar

Skill Level:

Intermediate

Pages:

58

Availability:

Available

Stock Reference:

ER2886


Full Description
ed. Stefano Grondona
The renowned Andres Segovia edition of Twenty Studies for Guitar has been the cornerstone for classical guitarists since it was first published in 1945. Segovia selected and edited these studies and added his own fingerings to complement his unique performance style.
Stefano Grondona has only added fingerings to those studies taken from opp.6 & 29 which do not contain any in editions of the period. Complete with editorial notes and annotations.
For intermediate guitarists and onwards.