Viewing:
» Bay Of Pigs [2vnvavc!dbgtr]_Daugherty, Michael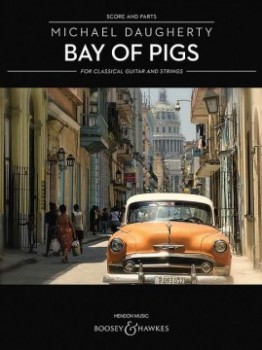 Bay of Pigs [2Vn/Va/Vc/!Db/Gtr]
Product Information
Author:

DAUGHERTY, Michael

Type:

Book Only

Language:

English

Instrumentation:

2Vn/Va/Vc/Db/Gtr

Skill Level:

Advanced

Pages:

SET

Availability:

Sold: On Order

Stock Reference:

BH10595


Full Description

Michael DAUGHERTY
Bay of Pigs
for guitar and string quartet/quintet/string orch.
- Havana Dreams
- Water Fall
- Anthem
Composed in 2007 for Manuel Barrueco.
A three-movement elegy for Cuba, past and present, portraying the hardships of the revolution and subsequent refugees.
The composer explains:
"In the first movement, Havanna Dreams , I have composed bittersweet, brooding music for pre-revolution Cuba. Fidel Castro (1926-2016), commander of the Marxist revolution of 1959, was dictator of Cuba from 1961 until 2011.
The second movement, Water Fall , evokes the turbulent seas that surround Cuba. It is in theses stormy waters that thousands of refugees have fled to Miami by boat, and battles have been won and lost, including the failed 1961 Bay of Pigs invasion by Cuban exiles.
The ominous and angry rhythms of the final movement, Anthem , echo the revolutionary chanting of Fidel Castro and the Guerilla ghost of his communist ally, Che Guevara. A brief return to the nostalgic music of the first movement echoes the dream of Cuban exiles finally returning home."