Viewing:
» Le Edizioni Girard _Giuliani, Mauro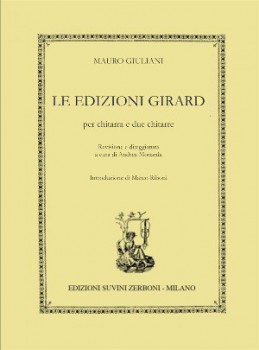 Le Edizioni Girard
Product Information
Author:

GIULIANI, Mauro

Editor:

MONARDA, Andrea

Type:

Book Only

Language:

English/Italian

Instrumentation:

Solo Guitar

Skill Level:

Intermediate

Pages:

XXIV+128

Availability:

Sold: On Order

Stock Reference:

ESZ16060


Full Description

Mauro GIULIANI
Le Edizioni Girard
Published for the first time eighteen previously unknown works - comprising 87 pieces in total - by Mauro Giuliani, one of the most important guitarist/composers of the 19th century.
This edition is among the most important discoveries of the guitar repertoire of that period after the years of musicological rebirth which took place between the 1970's and 1990's through the complete editions and selected works of this 19th century composer.
The true story of the six pieces opus 139 will be finally clear: the original title was not "24 Prime Lezioni Progressive Per Chitarra Divise in Quattro parti" and it was not Giuliani who provided that title.
You will also discover that, most probably, the missing eighteen pieces (through which we have a total of 24 pieces) are right in this volume, as it also contains the six missing works between number 131 and 136.
The works here published are simple, linear and bright: Giuliani's genius is revealed not only through complex and long works but also in these little gems in which he leaves a clear mark of his strong and unique personality.
Edited by Andrea Monarda with an introduction by Marco Riboni