Viewing:
» 24 Fantasias Romanticas_Torrent, Jaume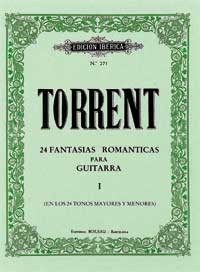 24 Fantasias Romanticas
Product Information
Full Description
24 Fantasias Romanticas, op.18
(set)
1 - C Major - Saludo
2 - C minor - Coraje
3 - G Major - Flor de mayo
4 - G minor - Desesperanza
5 - D Major - Paisaje primaveral
6 - D minor - Recuerdos de un viaje a Italia
7 - A Major - ¡Buenas notícias!
8 - A minor - Elegia
9 - E Major - Gozo
10 - E minor - Nocturno
11 - B Major - Nostalgia
12 - B minor - Renuncia
13 - F# Major - Arlequín y Colombina
14 – F# minor – Melancolía
15 – C# Major – El niño ante el misterio del bosque
16 – C# minor – Desconsuelo y furia
17 – Ab Major – Celebración
18 – Ab minor – Plegaria
Out of print
The romantic spirit, which characterizes a great part of the works pf the celebrated composer Fernando Sor (1778-1838), did not find in music for the guitar, other than in occasional manifestations as in the case of Napoleon Coste (1806-1883), continuity worthy of a place beside the great contributions that attract our attention in the rest of instrumental music. Composers as famous as Schubert, Mendelssohn, Chopin, Schumann, Berlioz and others cultivated, on the margin of their greater works, and in minor forms, a distinctly intimate style which did not benefit the guitar in spite of its being an ideal instrument to express it.
The important compositions of Francisco Tarrega (1852-1909) and some of his followers was impregnated with the aesthetic values of romanticism fashioned by those illustrious masters mentioned above. Despite this, it should be recognised that the repertoire for the guitar falls a long way short of that reached by such instruments as the violin and piano.
Conscious of this gap on the works available for guitarists Jaume Torrent was keen to penetrate that epoch with the composition of these Twenty-four Romantic Fantasies written in each one of the modern major and minor keys. This represents a new departure in the field of music of the guitar and has enabled him to create a considerable variety of expressive shades while at the same time exploring new sounds and techniques which will benefit all those who study and assimilate them.
In these fantasies the composer offers guitarists beautiful music which helps to penetrate in the artistic and functional sense of the fingerboard, enriching the player with explorations that transcend the limited points of reference in which habitually and with excessive reiteration chords, melodies and formulas are distributed. At the same time much care has been taken over the fingering and the best positions are shown in order to facilitate easy reading and make playing more expressive.
Convinced of the worth of Jaume Torrent as a guitarist, teacher and composer, it gives me much pleasure to present theses Twenty-four Romantic Fantasies considering that they reflect clearly the artistic personality of one with sentiments and emotions and a longing to express them.
Jose M Llorens
Director of the Spanish Institute
of Musicology of C.S.I.C.