Viewing:
» Complete Guitar Works, Vol.1(jeffery)_Aguado, Dionisio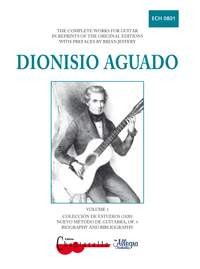 Complete Guitar Works, Vol.1(Jeffery)
Product Information
Author:

AGUADO, Dionisio

Editor:

JEFFERY, Brian

Type:

Book Only

Language:

Spanish/English(preface)

Instrumentation:

Solo Guitar

Skill Level:

Intermediate / Advanced

Pages:

160

Availability:

Available

Stock Reference:

ECH0801


Full Description
The Complete Works for Guitar in Reprints of the Original Editions
Vol.1. Colleccion de Estudios(1820), Nuevo Metodo de Guitarra, op.6, Biography & Bibliography.
This volume brings together what is known of Aguado's life, and gives full details about the publication of his music. It also includes the full text of Jose Romanillos' article
Dionisio Aguado-the man
. Also included are the following two publications:
The
Coleccion de Estudios
of 1820, which contains 46 studies and an explanatory text. Aguado's earliest known work, it is the fruit of his intensive study of the guitar in Spain. It was previously thought lost and has only recently come to light.
The
Nuevo Metodo de Guitarra
, opus 6, which is a mucg simpler method than the elaborate one which Aguado had previously published. It consists of 70 pages, with short musical passages and explanatory text.
This is Volume 1 of the
Complete Works
of Dionisio Aguado.