Viewing:
» Collected Works For Guitar_Manjon, Antonio Gimeniz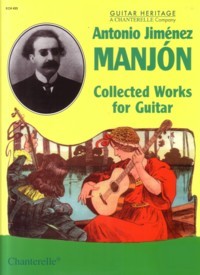 Collected Works for Guitar
Product Information
Author:

MANJON, Antonio Gimeniz

Editor:

RINEHART, Alan

Type:

Book Only

Language:

English

Instrumentation:

Solo Guitar

Skill Level:

Intermediate / Advanced

Pages:

192

Availability:

Re-Printing

Stock Reference:

ECH0433


Full Description
Collected Works for Guitar
MANJON A.J. La Mariposa, Mazurka op.1, Mazurka Lírica op.3, Matilde, Gavotte op.4, Tú y Yo, Duetto op.5, Lola, Habanera op.6, Balada op.7, Recuerdos de mi Patria (Mazurka Romántica) op.15, Brisas (Mandolin or violin & guitar or piano) op.16, Célebre Capricho Andaluz op.17, Cuento de Amor - romanza op.18 -Aire Vasco op.19, Tres Estudios Expresivos op.25, ¿Por Qué?, Vals op.28, Capricho criollo op.29, Primavera andaluza WoO, La Aurora - Romanza WoO, 12 Estudios, Minueto, Rosita, Romanza No.3, Quiero y no quiero, habanera, Leyenda, Del Plata a los Andes, Noveletta, Canto Andaluz - peteneras, Fantasía Gitana, Sobre tu Corazón, Romanza (voice & guitar), Serenata op.11. TOSTI Paulo: Vorrei morire, op.8.
BEETHOVEN L.v.: Adagio de la sonata XIV (Claro de Luna) op.9, Marcha Fúnebre sobre la muerte de un héroe op.14.
MENDELSSOHN Felix: La Primavera, Romanza sin palabras op.12
CHOPIN Frédéric: Preludio op.13 No.15.

Published as a facsimile of the original Spanish editions and in newly engraved editions of previously unpublished works.