Viewing:
» Variations On An American Folksong(colorado Trail) Op.28_Duarte, John W.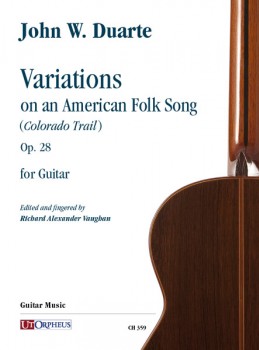 Variations on an American Folksong(Colorado Trail) op.28
Product Information
Author:

DUARTE, John W.

Editor:

VAUGHAN, Richard A.

Type:

Book Only

Language:

English

Instrumentation:

Solo Guitar

Skill Level:

Intermediate / Advanced

Pages:

16

Availability:

Available

Stock Reference:

UOCH359


Full Description

John DUARTE
Variations on an American Folksong 'Colorado Trail' op.28
In 1958 the tune 'Colorado Trail' was the subject of a composition competition in Guitar Review magazine. The tune had been selected by the poet and writer Carl Sandburg from his The American Songbag and the first prize was $200. Vladimir Bobri, the editor of Guitar Review, had urged John Duarte to enter, but, after sketching the beginning of a couple of variations, he became extremely reluctant (not particularly liking the tune) and laid low, hoping he would be forgotten. In the end, he received a telegram from Bobri telling him that they were holding open the competition deadline and his entry was expected. The music was completed in three days and posted off. His entry won the first prize, 6/7 votes, with Segovia heading the judging committee. Other competition entrants of note include James Yoghourtjian and Eduardo Sainz de la Maza.
Published here for the first time.