Viewing:
» Homenaje (duarte)_Falla, Manuel De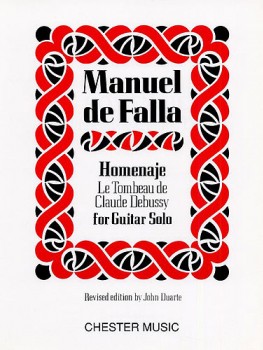 Homenaje (Duarte)
Product Information
Author:

FALLA, Manuel de

Editor:

DUARTE, John

Type:

Book Only

Language:

English

Instrumentation:

Solo Guitar

Skill Level:

Intermediate / Advanced

Pages:

8

Availability:

Available

Stock Reference:

CH83094


Full Description
Homenaje, Le Tombeau de Claude Debussy
(1920) [5:00]
Critical edition ed. John Duarte
After the death of Debussy (25th March 1918) Henri Prunieres asked Falla to contribute to the planned memorial issue of the musical journal
Revue musicale,
of which he was the publisher. Though Prunieres had asked for an article, Falla preferred to respond with a piece of music, the Homenaje, simultaneously satisfying Miguel Llobet's earlier request for a work for the guitar.
The current edition is based on the original
Revue musicale
edition and that of the piano arrangement.
Newly revised and re-engraved 2014 edition.