Viewing:
» Shuo Chang_Chen, Yi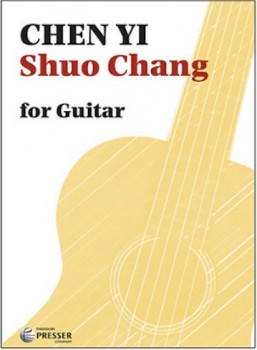 Shuo Chang
Product Information
Author:

CHEN, Yi

Editor:

XUEFEI, Yang

Type:

Book Only

Language:

English

Instrumentation:

Solo Guitar

Skill Level:

Advanced

Pages:

8

Availability:

Sold: On Order

Stock Reference:

PR41631


Full Description
CHEN Yi
Shuo Chang
The first Chen Yi composition for solo guitar - automatically making a significant and captivating contribution to the instrument's repertoire.
The inspiration of composing this piece came from the art form of musical story telling in China, Shuo Chang. The musical style is influenced by Jing Yun Da Gu from northern China, in which the folk musician(s) would sing, recite, and speak while telling stories, and play a drum in the interludes, while a small group of Chinese traditional instrumentalists playing the accompaniment, led by the plucked instrument Sanxian (a 3-string lute with a long neck and fingerboard). The guitar plays all roles in an imagined performance of Chinese Shuo Chang, as the singer, the drummer, the ensemble musicians, and the dancers, all in one.
Commissioned for Xuefei Yang by Wigmore Hall. First performed at Wigmore Hall, 11th March 2013.
Duration: 6:30