Viewing:
» CD
» Recordings Of Guitar Exam Pieces, Grade 3_ASSOCIATED BOARD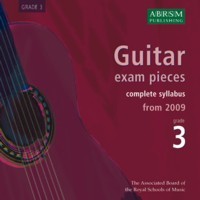 Recordings of Guitar Exam Pieces, Grade 3
Product Information
Type:

CD

Format:

CD

Genre:

Instrumental

Language:

English

Length:

n/a minutes

Discs:

1 CD

Availability:

Available

Stock Reference:

AB952


Full Description
Recordings of the ABRSM Grade 3 Guitar Exam pieces complete syllabus from 2009
.
Guitar: Stephen Goss
Guitar Accompaniment: Richard Hand
Contents
Stephen Goss Aeolian Harp
Ferrer Allegretto moderato in A minor
Giuliani Allegretto, Op. 50 No. 15
Küffner Arietta in A
Morlaye Branle No. 2
Stepan Rak Danse folklorique tchèque
Sor Exercice in C, Op. 35 No. 2
Charles Gounod Funeral March of a Marionette
Logy Gigue
Anon. Grimstock
Rameau Musette en Rondeau
J. S. Bach Musette from English Suite No. 3
Richard Rodgers, Hammerstein My Favorite Things
Leo Brouwer No. 5: from Estudios sencillos (Simple Studies), Vol. 1
Vincent Lindsey-Clark Oloroso
John Dowland Orlando Sleepeth
David Cottam Peppermint Rag
Henry Purcell Rondeau (from The Fairy Queen)
Logy Sarabande
Tchaikovsky Sweet Reveries (Op. 39 No. 21)
Mertz Tempo di marcia (No. 1 of Three Pieces)
Wrieden The Acrobat
Anon. The Coventry Carol
Ferrer Vals in A
Vincent Lindsey-Clark Vals Navarra
Petr Eben Who are these geese?