Viewing:
» Quatre Pieces (gilardinobiscaldi)_Berkeley, Lennox (sir)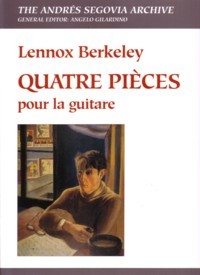 Quatre Pieces (Gilardino/Biscaldi)
Product Information
Full Description
(1927-32) [10:30]
i. Moderato ma con brio
ii. Andante con moto
iii. Lento(Mouvement de Sarabande)
iv. Allegro, energico
Four Pieces dedicated to Segovia and composed sometime during his days in Paris with Nadia Boulanger(1927-1932) this early work by Berkeley predates his later work with Julian Bream and was discovered in the Archives of Andres Segovia in May 2001.
This edition includes a full facsimile of the original manuscript as well as a fully engraved and edited version.
Series editors: Angelo Gilardino & Luigi Biscaldi
The Andres Segovia Archive Series
Trinity College London (2010-16) exam syllabus selected.