Viewing:
» Guitar Travels_Anderson, John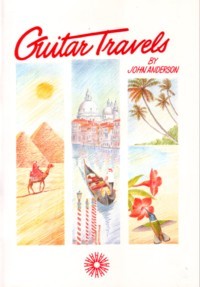 Guitar Travels
Product Information
Author:

ANDERSON, John

Type:

Book and CD

Language:

English

Instrumentation:

Solo Guitar

Skill Level:

Easy

Pages:

20

Availability:

Sold: On Order

Stock Reference:

AGP505


Full Description
Trinity College London (2010-16) exam syllabus selected.
Trinity College London(2016-19) syllabus listed publication
- TCL Grade 2

A collection of fourteen original pieces for guitarists of one or more years playing experience.
Each piece encapsulates a particular atmosphere associated with the various places featured from around the world. Illustated by Fred Anderson. CD included.
- Caravan
- Kalamatianos
- River Wisla
- Alpine Walzer
- Rainbow Wood
- Sayonara
- Barbados
- Tango del Plata
- Appalachian Hoedown
- Barcaruola
- Simoom
- La Mer Argentee
- Palio delle Contrade
- Homeward Bound