Viewing:
» Guitar Music From The Student Repertoire [bcd]_MILLS, JOHN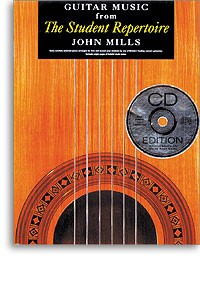 Guitar Music from the Student Repertoire [BCD]
Product Information
Author:

MILLS, John

Editor:

MILLS, John

Type:

Book and CD

Language:

English

Instrumentation:

Solo Guitar

Skill Level:

Intermediate

Pages:

64

Availability:

Available

Stock Reference:

MN10111


Full Description
Guitar Music from the Student Repertoire
60 pieces covering four centuries of guitar music. Includes helpful performance notes and CD.
Book includes Giuliani Andante in C from his op.43 which was used as the theme for the TV series 'Tales of the Riverbank'.
Works by: Aguado, Anon, Carcassi, Carulli, Diabelli, Dowland, Giuliani, Kuhnau, Logy, Milan, Molino, Pisador, Sor, Tarrega, de Visee.
Book (Printed Music)

Only £4.95