Viewing:
» Classical Guitar Playing: Step 2 [ 2008]_London College Of Music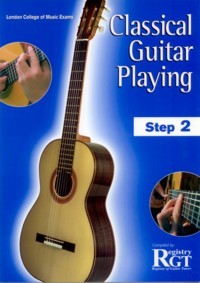 Classical Guitar Playing: Step 2 [-2008]
Product Information
Full Description
Classical Guitar Playing: Step 2(-2008)
This handbook is part of a series, compiled by the Registry Of Guitar Tutors that forms an expertly structured and comprehensive method of studying classical guitar.
This handbook covers all the sections of the London College of Music Grade Four classical guitar examination including: all the set pieces; all scales, arpeggios and chords; sight reading; ear tests; and spoken tests. In addition, there are useful performance tips for all the pieces as well as essential advice on preparing for the examination.
This volume includes attractive pieces by a wide range of composers including Vivaldi, Bach and Mozart making it ideal for beginning players who wish to improve their playing and extend their musical range.