Viewing:
» Classical Guitar Playing: Step 1 [ 2008]_London College Of Music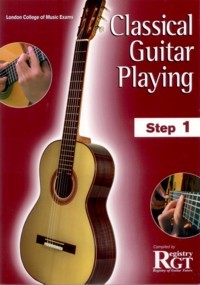 Classical Guitar Playing: Step 1 [-2008]
Product Information
Full Description
Classical Guitar Playing: Step 1 (-2008)
This handbook is part of a series, compiled by the Registry Of Guitar Tutors, that forms a structured and comprehensive method of studying classical guitar.
This handbook covers all the sections of the London College of Music Grade One classical guitar examination including: all the set pieces; all scales, arpeggios and chords; sight reading; ear tests; and spoken tests. In addition, there are useful performance tips for all the pieces as well as essential advice on preparing for the examination.
This volume includes well-known melodies by Bach and Brahms, as well as attractive pieces by a wide range of composers making it ideal for novice players, whether children or adults, in the early stages of learning.