Viewing:
» Abc Guitar_Kenyon, Stephen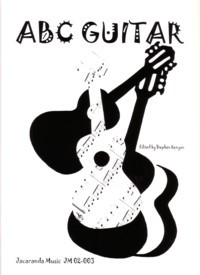 ABC Guitar
Product Information
Full Description
Covering a wide range of styles, ABC Guitar was specially developed to give early stage players and insight into the styles of music found in guitar exams. More experienced players will also find it useful in developing the character and style of their playing.
The book includes teacher-pupil duets as well as a wide range of solo music.
Full supporting audio and video resources to accompany this book are available
on-line
.
ABRSM(2019-) syllabus listed publication
- Muller: Allegretto

ABRSM(2019) Grade 1
- Kenyon: Free-wheeling

ABRSM(2019) Grade 1
- Satie: A Tiresome Prank

ABRSM(2019) Grade 1
- Schubert: Serenade
ABRSM(2019) Grade 2
TCL(2020-23) syllabus listed publication
- Kenyon: Lil' Bit Blue TCL(2020-23) Grade 1
Book (Printed Music)

Only £6.95