Viewing:
» The Young Guitarists Progress Repertoire Series: Part 2 [gm40]_Burden, David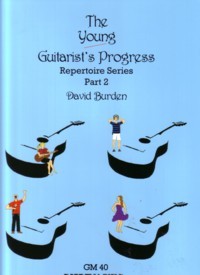 The Young Guitarist's Progress Repertoire Series: Part 2 [GM40]
Product Information
Full Description
The Young Guitarists Progress Repertoire Series: Part 2
(GM40-2009 Revised Edition-formerly GM10)
This expanded edition covers the area from approximately Grade 1 to Grade 3. It provides repertoire for young pupils learning individually or in groups with a wide range of styles including arrangements of folk music and Pop Classics such as "I Have a Dream(Abba)" . The Theory and Ear Development sections can be used alongside this at the discretion of the teacher.
Original compositions in a variety of styles

Arrangements of well known melodies such as Folksongs, Blues and Spirituals

19th Century music including

Jose Ferrer

CD now included featuring guitarist David Massey, BBC Young Musician Concerto finalist 2006 and graduate of the Guitarist's Progress Series.