Viewing:
» Repertoire Progressif Vol.1_Les Productions Doz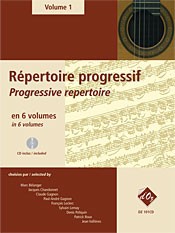 Repertoire Progressif Vol.1
Product Information
Full Description
Repertoire Progressif Vol.1
These six volumes of progressive repertoire for classic guitar provide pieces that will please student guitarists at both beginner and more advanced levels. The repertoire was chosen by Canadian teachers who have been working for many years at all levels of classic guitar instruction. Their precious help has brought quality, diversity and originality to this collection.
Each volume covers the principal periods of music history from the Renaissance to our own day. The best traditional repertoire is included as well as new arrangements and unpublished compositions.
Vol.1: 52 pieces inc.
- V'la l'bon vent arr. Lemay
ABRSM (2019) Grade 1
- Sor: Lecon in C op.60/1

ABRSM (2019) Grade 1
- Anon. Chanson

ABRSM(2019) Grade 2
- Visee: Menuet

ABRSM(2019) Grade 2
- Aguado: Valse in G

ABRSM(2019) Grade 2
- Giuliani: Ecossaise in a minor

ABRSM(2019) Grade 2
- Sor: Lecon in C op.60/2
ABRSM(2019) Grade 2
ABRSM(2019-) syllabus listed publication
- AB Grade 1
- AB Grade 2
repertoire progressif vol 1