Viewing:
» Solo Guitar Playing, Book 2 [bcd]_Noad, Frederick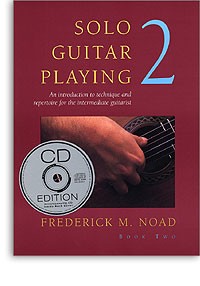 Solo Guitar Playing, Book 2 [BCD]
Product Information
Author:

NOAD, Frederick

Type:

Book and CD

Language:

English

Instrumentation:

Solo Guitar

Skill Level:

Intermediate / Advanced

Pages:

160

Availability:

Sold: On Order

Stock Reference:

AM949465


Full Description
Solo Guitar Playing: Book 2
Continuing the instruction begun in Book 1 of Solo Guitar Playing, Book 2 is an intermediate level guitar method. It directs the student to greater knowledge of the guitar on three different levels:
Technique: Improved coordination of the fingers by graduated exercises

Musicianship: Improvement of sight-reading skills, and increased understanding of a score and the language of music

Style: An introduction to the different approaches to music of different periods.
The CD edition contains 30 tracks from Book 2.