Viewing:
» Modern Classical Guitar Method, Grade 1_YATES, STANLEY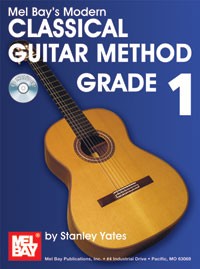 Modern Classical Guitar Method, Grade 1
Product Information
Full Description
Modern Classical Guitar Method: Grade 1
New classical guitar edition by well-known concert guitarist and teacher Stanley Yates. The beginning classical guitarist will learn music reading, hand and sitting positions, practice techniques, arpeggio and scale technique, chordal and melodic playing, and solo and duet playing in the first position.
Many of the exercises and study pieces include accompaniments that can be played along with a teacher during lessons or with the included online audio (the student and teacher parts are presented on separate stereo channels allowing either part to be turned off if desired). The audio also contains all of the exercises, studies and solos presented in the book.

An instructional online video containing demonstrations, practice tips and performances of many of the exercises, studies and solos contained in the book is also available. Includes access to online audio and video.